I created this recommendations page so you can have quick access to all the blogging resources, products, and tools that helped me earn enough money per month in less than a year to quit my day job!
These are the best tools I have used that helped me making money since I started blogging!
It does not matter if you are a beginner, intermediate or advanced blogger. I'm constantly updating this list of resources so it stays relevant in all the different stages of your online business.
Some of the links on this page are affiliate links, it means that, at no additional cost to you, I will earn a commission if you decide to make a purchase. Read Disclosure for more information.
Best Hosting Service
Bluehost is one of the most reputable hosting companies and perfect for new bloggers. It offers an automatic WordPress installation that will help you get started with a single click of a button.
They are reliable and have excellent customer support ready to help you 24/7. I explain how to get started with them in my Beginner's Guide to Start a Blog. Click on the button below to get your hosting at only $7.99 $3.95 per month.
Best Tool for Writing Content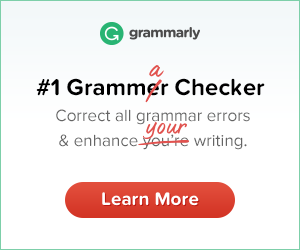 This grammar checker tool has helped me creating quality content pretty fast.
Grammarly is not only a fantastic grammar checker tool. But it also checks the complexity of your sentences and provides you with alternatives much more appealing to your readers.
I love that the only thing you need to do is to install their browser plugin and you are good to go!
If you are serious about blogging, this tool is a MUST for you.
Best WordPress Themes
Picking the right theme for your blog can be a total headache. But you won't have that problem with MyThemeShop.
They offer a wide variety of excellent WordPress themes for any kind of blog. I'm using the Schema theme right now on this website!
Now you can get an annual membership to access +90 Premium Themes ready to optimize your blog and make it look amazing.
Best Email Marketing Service
Your email list is the best asset you can have in your online business.
It is the best way to reach to your audience at any time and keep them updated with newsletters, deals, and subscriber-only bonuses.
ConvertKit is a professional email marketing service that allows you to grow your email list painlessly.
You can send emails, create highly converting landing pages, create campaigns, manage opt-in forms, automation of your email campaign and more!
Best Accounting Software for Bloggers
I never thought that the accounting side of blogging could be so easy! You won't find accounting software so easy to use like FreshBooks.
I can keep track of my earnings, my affiliate income, my expenses, and my monthly growth automatically.
It creates professional invoices and easy-to-read reports that anyone can understand.
Best Pinterest Marketing Tool
I did not pay attention to Pinterest Marketing until I discovered Tailwind. It is by far the best content scheduler I have ever used.
The interface is so easy to use and intuitive that I could set up an entire month of content in less than an hour.
It has been by far the best investment I have made in a marketing tool.
Get Tailwind right now if you really want to see your traffic grow fast.
Best Online Storage Service
Once I started using pCloud in all my devices, my productivity skyrocket immediately with the free 10GB of storage they offer. I could share all my files automatically with my pc, my laptop, and my phone. I was able to create, edit, and review my data wherever I go.
The best part is that I did not even need to carry a flash drive with me to have all my important files with me even if I were on vacation.
I love that you can integrate pCloud with many other useful apps with just one click.
I immediately upgraded to the 2TB package, so I don't ever have to worry about online storage space again.
My Favorite Books
Darren Hardy completely changed my life with the lesson in this book.
You'll learn that every decision you make brings a significant change in the path your life is going.
Success is not something that will suddenly appear overnight, but the result of huge rewards from seemingly insignificant actions.
Small choices + consistency + time = significant results.
I learned how to pay attention to small details and to create a plan of action to get a life where I could finally feel fulfilled.